Automatic Rolling Shutter Side Motor
InTrust automatic rolling shutter Side Motor is a kind of motor, which is installed at side of a shutter door, so we call it Side Motor. Side motor is a long year's technology, as this type of motor is stronger in power; markets accept this motor as a very popular choice for heavy doors, such as factory doors, industrial doors, front shops etc. Now it is still widely popular in the markets. InTrust Supply and installed  side motors, mainly the 300kg AC, 600Kg AC, 800Kg AC, 1,000Kg AC and 2,000Kg AC motors (rolling shutter motor price & Shutter Motor Importer, rolling shutter motor price ).
The offered shutter motors are manufactured by using cutting edge technology and superior quality raw material at our ultra-modern production unit. A team of quality experts test these shutter motors upon different parameters for maintain their flawlessness. Besides, clients can avail these shutter motors from us at nominal prices.
300KG, AC, Automatic Roller Shutter Motor
Rated Voltage: 220V/50HZ
Rated Power: 250W
Rated Current (A): 2.8
Carrying Capacity (Kg): 300
Output Torque(N.m): 168
Output Speed (RPM): 5.00
Short-term Rotation Min: 8
Standard Drum Diameter (inch): 4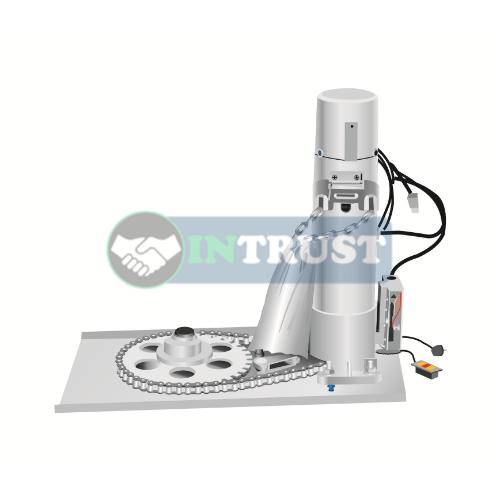 1,000KG, AC, Automatic Roller Shutter Motor
Rated Voltage: 220V/50HZ
Rated Power: 400W
Rated Current (A): 4.9
Carrying Capacity (Kg): 1,000
Output Torque(N.m): 809
Output Speed (RPM): 3.5
Short-term Rotation Min: 8
Standard Drum Diameter (inch): 6 
600KG, AC, Automatic Roller Shutter Motor
Supply  Voltage: 220V/50HZ
Rated Power: 370W
Rated Current (A): 3.3
Carrying Capacity (Kg): 600
Output Torque(N.m): 412
Output Speed (RPM): 4.8
Short-term Rotation Min: 8
Standard Drum Diameter (inch): 5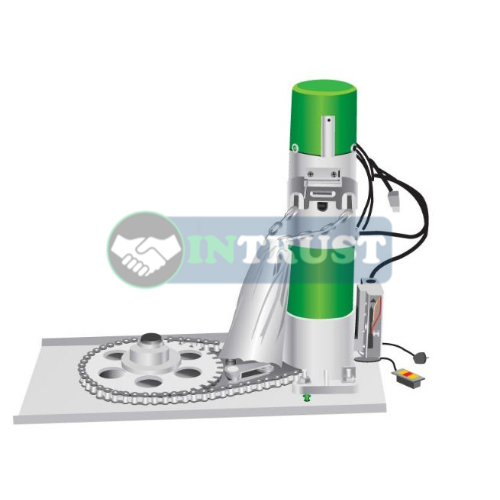 1,500KG, AC, Automatic Roller Shutter Motor
Rated Voltage: 380V/50HZ
Rated Power: 1,000W
Rated Current (A): 3.8
Carrying Capacity (Kg): 1,500
Output Torque(N.m): 1617
Output Speed (RPM): 3.5
Short-term Rotation Min: 13
Standard Drum Diameter (inch): 6 
800KG, AC, Automatic Roller Shutter Motor
Rated Voltage: 220V/50HZ
Rated Power: 400W
Rated Current (A): 4.7
Carrying Capacity (Kg): 800
Output Torque(N.m): 647
Output Speed (RPM): 4.0
Short-term Rotation Min: 8
Standard Drum Diameter (inch): 5 
2,000KG, AC, Automatic Roller Shutter Motor
Rated Voltage: 380V/50HZ
Rated Power: 1,000W
Rated Current (A): 4.1
Carrying Capacity (Kg): 2,000
Output Torque(N.m): 2450
Output Speed (RPM): 3.6
Short-term Rotation Min: 13
Standard Drum Diameter (inch): 8
The Features & Characteristics of Side Motor:
Heavy duty 
Electromechanical limit switch
Pre-wiring capacitor.
Easy unlocking with possibility of interlocking
Galvanized steel guide with chain drag system Compact construction, large torque, and running without noise.
With the national patent of Chain-break protection.
The motor will not burn down for the protection of thermal effect
Separate circuit control ensures the security
Safety brake, accurate limited control positioning,with double limit switch protection, prevent door over roll-up.
UPS automatic system is available, No bother of power failure
Can work with remote controller
Easy to install, easy to maintenance and long useful life