Composite Steel Fireproof Rolling Shutter Door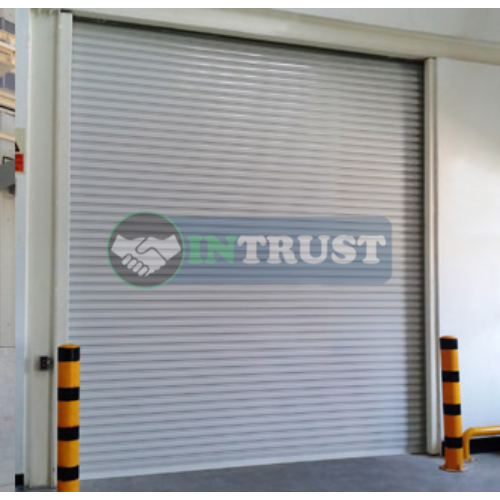 InTrust Fireproof Rolling Shutter Doors are physical barriers that protect wall openings from spread of fire. Fire Rated Rolling Shutter will operate automatically in the event of fire detection. InTrust fire resistant rolling shutters are in the store which appear and function in the same manner as traditional single motorized rolling shutters. The only difference is the material used and the fitting type. Fireproof Rolling Shutter in BD, fire rated rolling shutter, fire resistant rolling shutter, flame resistant rolling shutter and commercial fire shutters.
Flame resistant rolling shutter is very simple structural design, the installation takes up a minimal amount of space. The horizontal lamellas, manufactured from high-quality galvanized zinc-plated sheet profiles, are joined together by a locking joint. The lateral guide rails ensure smooth vertical movement of the scrolling shutter. The doorjamb and header are lined with an insulation profile produced from an intumescent material.
The Technical Parameter & Product Features of Automatic Flame Resistant Rolling Shutter
Alternately Fire Rated Shutters tested and certified to American Standards for up to 4 hours UL/FM label are also available.
Constructed of Galvanized Steel or Stainless Steel in a variety of gauges, profile designs and finishes for unsurpassed strength, durability and style.
The surface of shutter sheet is specially processed,which makes it gorgeous, even and bright to be more decorative, and it has the advantage of anti atmospheric corrosion.
It has the performance of fire resistance more than F4, heat radiation of the back fire surface 0.5/cm²
The structure is tight, the rotation is flexible, the noise is small.
Opening method: The quick door has a variety of manual and automatic control methods, such as electric buttons, manual drawstrings, geomagnetic induction, WiFi controlling, and etc., to meet the user's requirements for door opening and closing methods.
A safety anti-collision device can be set at the bottom of the door (optional).When closing the door, it stops quickly to ensure the safety and exit of people and things if it approaches an obstacle, and the remote control and light control are optional. The door can be installed indoors or outdoors.
Intelligent: Fast doors are very intelligent, only need to set the lower limit and upper limit, the fast door can be changed according to the parameters we designed after starting.

InTrust commercial fire shutters also offer fire control panels, repeater panels, smoke heads, heat detectors and polyester powder coating paint finish to most BS or Ral. color references to customize the roller shutter to meet the customers specification.
| | |
| --- | --- |
| Product | Composite Still Fireproof Rolling Shutter |
| Material | Steel |
| Fire resistance | More than 3 hours, heat radiation intensity 0.5/㎝² |
| Motor power | 0.25KW-0.75KW (As per Shutter Size) |
| Power supply | 1 phase 220v or 3 phase 420V, 50 HZ |
| Motor | Side motor 300kg/600kg/800kg/1000kg |
| Controller system's | Encoder / limit switch |
| Wind resistance | its pressive strength against wind is 1176.8pa |
| Opening | Roll up |
| Door curtain | Pvc curtain thickness 0.8mmhigh density polyester fabric |
| Opening Way | Electric/Manual/Remote control/Button/WiFi |
| Rolling speed | 5-15m/min |
| Wall to wall size | The width of a single shutter door can be up to 45 meters and its height can be up to 9 meters. |
We can customize the best product for our customers according to their demands.
If you have any questions, please feel free to contact us . We will get in touch with you within short time. We are waiting for your message and hope to cooperate with you!