Electric Transparent Polycarbonate Roller Shutter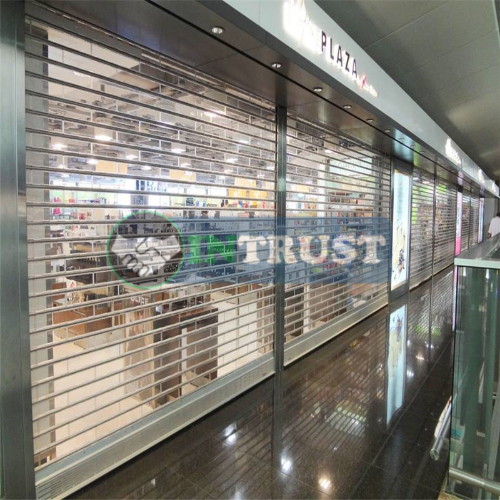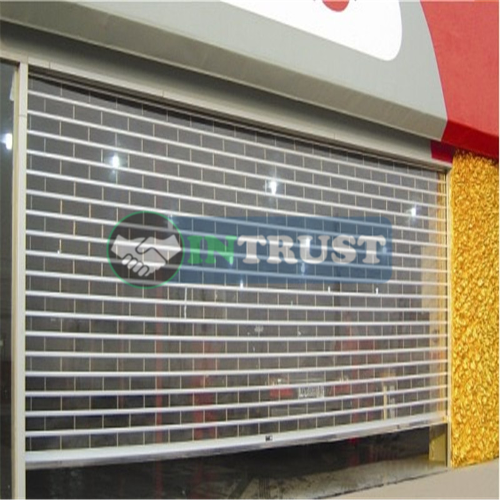 InTrust Polycarbonate Roller Shutter is a transparent rolling shutter system that is fully custom built and delivered ready to use. The flexible Shutter, Plastic rolling Shutter ans Acrylic shutter are most popular and widely used amongst all the categories of doors is the Transparent Rolling Shutter. Some environments call for shutters that combine a high level of security with transparency. Our transparent Acrylic shutter's  are used in a wide range of situations including retail premises, banks, museums, exhibitions and galleries, where public access is unrestricted, and high value items must be protected. Only in this way that can truly reflect of the crystal shutter door not only has the feature of elegant appearance, but also has the function of displaying the goods 24 hours.
InTrust Transparent Rolling Shutters agglutinate to the high quality, high transparency and reasonable price management concept to provide our customers with high quality services. Poly-carbonate rolling door is also known as PC door, Poly carbonate gate, clear door, PC rolling gate, transparent rolling gate, transparent door, etc. The door shutter is clear and transparent, its design is simple and decent, its appearance is noble and elegant.
The Technical Parameter & Product Features of Transparent Poly Carbonate Rolling Shutter
Beautiful and practical: The crystal shutter door has beautiful appearance, high strength and high toughness. It has the characteristics of corrosion resistance and weather resistance. In use, it shows good anti-aging, anti-rain, anti-corrosion and long service life.
Advantages of design appearance: The Acrylic shutter door is simple and elegant, and the appearance is noble and elegant.
Quiet operation: Lightweight operation, reliable balance system, powerful driving device, flexible roller design, light and flexible door operation.
When making the crystal shutter door, the manufacturing materials are strictly selected, and the structure of the rolling door is rationally designed to adapt to various climate and weather changes, and has a long-term protective effect on the indoor environment.
Opening method: The quick door has a variety of manual and automatic control methods, such as electric buttons, manual drawstrings, geomagnetic induction, WiFi controlling, and etc., to meet the user's requirements for door opening and closing methods.
A safety anti-collision device can be set at the bottom of the door (optional).When closing the door, it stops quickly to ensure the safety and exit of people and things if it approaches an obstacle, and the remote control and light control are optional. The door can be installed indoors or outdoors.
Intelligent: Fast doors are very intelligent, only need to set the lower limit and upper limit, the fast door can be changed according to the parameters we designed after starting.
| | |
| --- | --- |
| Product | Transparent PolyCarbonate Rolling Shutter/Plastic rolling Shutter/Flexible shutter |
| Material | Poly Carbonate and Aluminum |
| Thickness of the profile  | 0.8MM-2.0MM |
| Motor power | 0.25KW-0.75KW (As per Shutter Size) |
| Power supply | 1 phase 220v or 3 phase 420V, 50 HZ |
| Motor | Side motor/Tubular 300kg/600kg/800kg/1000kg |
| Controller system's | Encoder / limit switch |
| Spring Thickness  | 1.4MM (As per Customer Requirement) |
| Opening | Roll up/Sliding |
| Thickness Of Profiles  | 0.8MM – 2MM  |
| Opening Way | Electric/Manual/Remote control/Button/WiFi |
| Bottom beam & Sliding | Aluminum |
| Wall to wall size | The width of a single shutter door can be up to 45 meters and its height can be up to 50 meters. (It can make sliding and Rolling) |
Design of Transparent rolling Shutter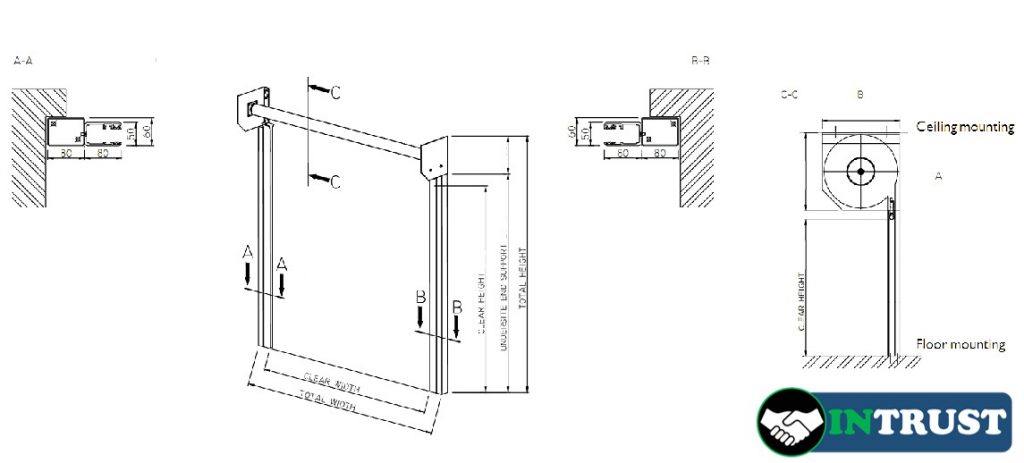 We can customize the best product for our customers according to their demands.
If you have any questions, please feel free to contact us . We will get in touch with you within short time. We are waiting for your message and hope to cooperate with you!